The Vacuum Doctor has changed their name. We are now Bernie's Sew & Vac. Please visit our new site at: BerniesSewVac.com
This site will continue to take orders and be updated with new products but Bernie's Sew & Vac will be main site.
---
Warm Company Warm & Natural Cotton Batting Price/YD | 753705021312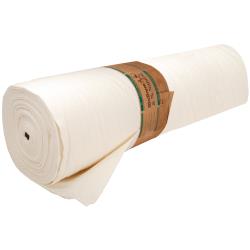 Item: 4121
Description: Warm Company Warm & Natural Cotton Batting Price/YD
Part Number: 753705021312
Notes: 90in wide
Price: $9.09 Sale $12.99
Stock: In Stock (27)
In Store
Brand: Warm Company
Category: Sewing & Quilting - Batting & Interfacing
Item Description:
This batting will not separate, bunch or beard. This 100% USA grown cotton is punched with hundreds of needles through a thin base material (polymer fibers) to prevent tearing, shifting, migrating or creeping through the cover fabric making it 87.5% cotton/12.5% polymer fibers. Needled cotton's flexibility makes it ideal for both inside and outside use. Fibers are held together without glue so a quilting needle glides easily through the batting. What an incredible difference! No need to pre-wash, machine washable after quilted, can be used as an exterior fabric, quilt up to 10in apart, easily dyes and your fabric will cling to the batting while quilting. 90 inch wide batting. Made in USA.