The Vacuum Doctor has changed their name. We are now Bernie's Sew & Vac. Please visit our new site at: BerniesSewVac.com
This site will continue to take orders and be updated with new products but Bernie's Sew & Vac will be main site.
---
TORK UNIVERSAL MULTIFLD TOWEL 9.125X9.5 WHITE 4000/cs | MB540A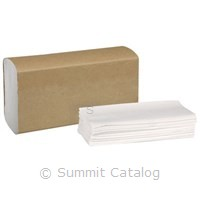 Item: 3679
Description: TORK UNIVERSAL MULTIFLD TOWEL 9.125X9.5 WHITE 4000/cs
Part Number: MB540A
Notes:
Price: $35.87
Stock: Stock: Store=0, Warehouse=12
Local Delivery or In Store Call to Order
Brand: Tork
Category: Janitorial - Paper Towels
Item Description:
Tork® Universal multifold hand towels provide the right combination of quality, performance and value. Embossing enhances hand feel and maximum performance. Multifold design provides for less towel consumption leading to source reduction, storage space savings, and lower overall costs. High wet strength provides a premium quality people appreciate. Fast absorbency helps to control usage, so you save on reduced waste and maintenance time. ''No touch'' hand towel service offers sanitary conditions. Towels are made from 100% recycled fibers providing environmental benefits, and a positive image builder. Replaces MB530. ECOLOGO Certified. Compostable Verified by Independent Verification.
->HH