The Vacuum Doctor has changed their name. We are now Bernie's Sew & Vac. Please visit our new site at: BerniesSewVac.com
This site will continue to take orders and be updated with new products but Bernie's Sew & Vac will be main site.
---
Perfect Scissors 7.5" | 51219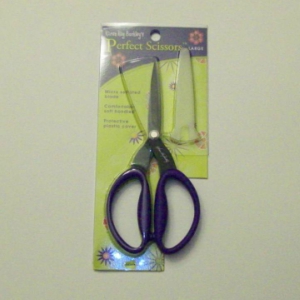 Item: 3525
Description: Perfect Scissors 7.5"
Part Number: 51219
Notes:
Price: $33.99
Stock: In Stock (1)
Brand: Karen Kay Buckley
Category: Sewing & Quilting - Scissors & Rotary
Item Description:
KAREN KAY BUCKLEY-Perfect Scissors. Love the way a serrated blade cuts through fabric! This special blade will pull the fabric into the scissors, rather than pulling it away like traditional scissors. This scissors features a cushioned handle, ideal of right- or left- handed people, blades sharp to the very tip, serrated blade to keep fabric from fraying, and are lightweight and comfortable. This package contains one 7-1/2x2-1/2 inch large scissors with plastic protective cover.
->HH