The Vacuum Doctor has changed their name. We are now Bernie's Sew & Vac. Please visit our new site at: BerniesSewVac.com
This site will continue to take orders and be updated with new products but Bernie's Sew & Vac will be main site.
---
QUILT IN A DAY T-SHIRT QUILT | QD1256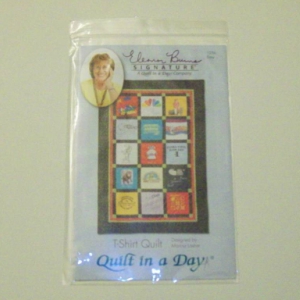 Item: 2848
Description: QUILT IN A DAY T-SHIRT QUILT
Part Number: QD1256
Notes:
Price: $10.99
Stock: In Stock (1)
Brand: Miscellaneous
Category: Sewing & Quilting - Patterns
Item Description:
Take all those T-shirts that have significance in your life and turn them into a memory quilt! Our new pattern is a 16-page booklet with fully illustrated instructions. New ideas and use of collared T-shirts are included.
->HH